Beginner Kids Martial Arts Classes Enrolling Now
No matter what your child's age, AmeriKick offers exciting Philadelphia Martial Arts classes that all kids love! From our Tiny Tigers Martial Arts classes for 3 & 4 years old, to our Little Dragons Martial Arts classes for 5 & 6 years old and our Beginner, Intermediate or Advanced Martial Arts classes for children age 7-13, we've got just the class for your child's age and skills.
As our expert Black Belt Philadelphia Martial Arts instructors help your child to learn all the fun martial arts moves kids love, we guarantee you'll notice big changes in your child, both physically and mentally.
Our kids Philadelphia Martial Arts classes are more than just a great fitness program for kids.
All of our instructors have years of experience motivating kids to succeed and teach the traditional philosophies of martial arts like:
NO OTHER AFTER-SCHOOL ACTIVITY OFFERS YOUR CHILD SO MANY BENEFITS!
All of our Philadelphia Martial Arts classes will help your child develop razor-sharp martial arts skills. But our Martial Arts program is not just about giving kids an incredible workout by teaching basic self-defense skills... We also teach dozens of martial arts techniques that will shape and strengthen your child's mind, too.
In Fact, the benefits of our Philadelphia Martial Arts program are almost endless! Just take a look:
And, no matter what Philadelphia Martial Arts class your child enrolls in, they'll learn how to deal with strangers and bullies and how to escape uncomfortable situations brought on by peer pressure or unwanted advances. Not to mention conquering their fears about bullying and being picked on.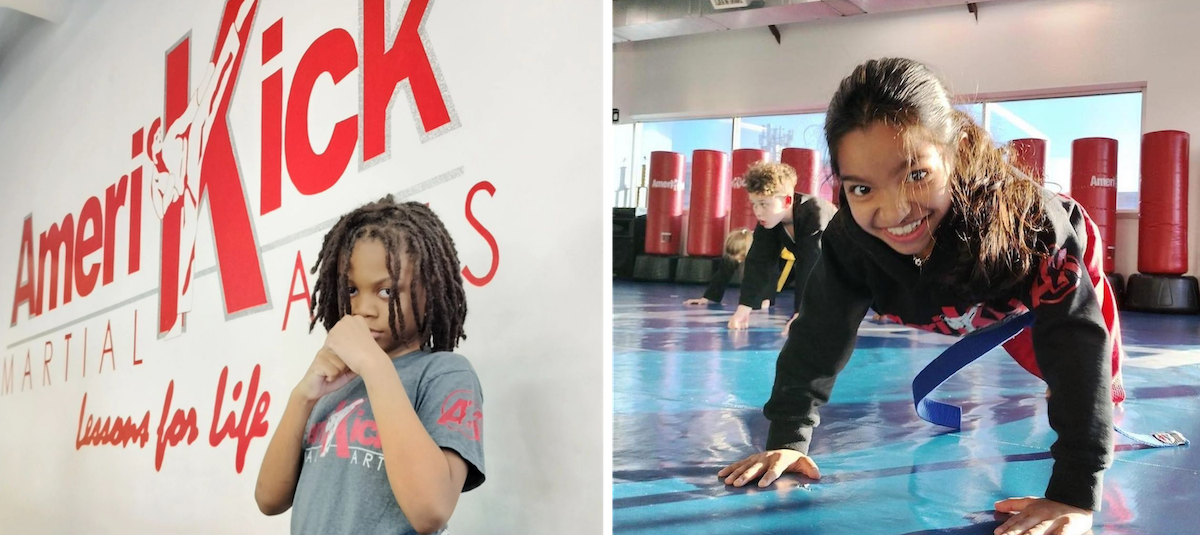 AWESOME FUN AT AN AWESOME PRICE!
Whether your child is only three years old or already a teenager, the skills they'll get from Amerikick Martial Arts will reinforce and improve their lives outside of our class. Parents are always amazed at the focus, concentration, and discipline their kids develop in our Martial Arts classes.
If you've read this far, then it's clear that you want to give your child all the benefits that Philadelphia Martial Arts lessons at AmeriKick can offer. To find out more about our current monthly special, simply take a moment to complete the brief form on this page, and we'll send you everything you need to get your child started at Amerikick Martial Arts in Philadelphia!
What You'll Learn at Kids Martial Arts
Respect
Focus
Teamwork
Self-Control
Memory
Discipline
Balance
Fitness
Coordination
Benefits of Kids Martial Arts
Improved school grades and behavior through better concentration
Greater self-esteem and self-confidence
A lifetime appreciation for physical fitness
The drive to have an active, healthy lifestyle
Respect for authority and themselves
Kids Martial Arts Program Age Groups
From Age 3 To 6
From Age 7 To 13