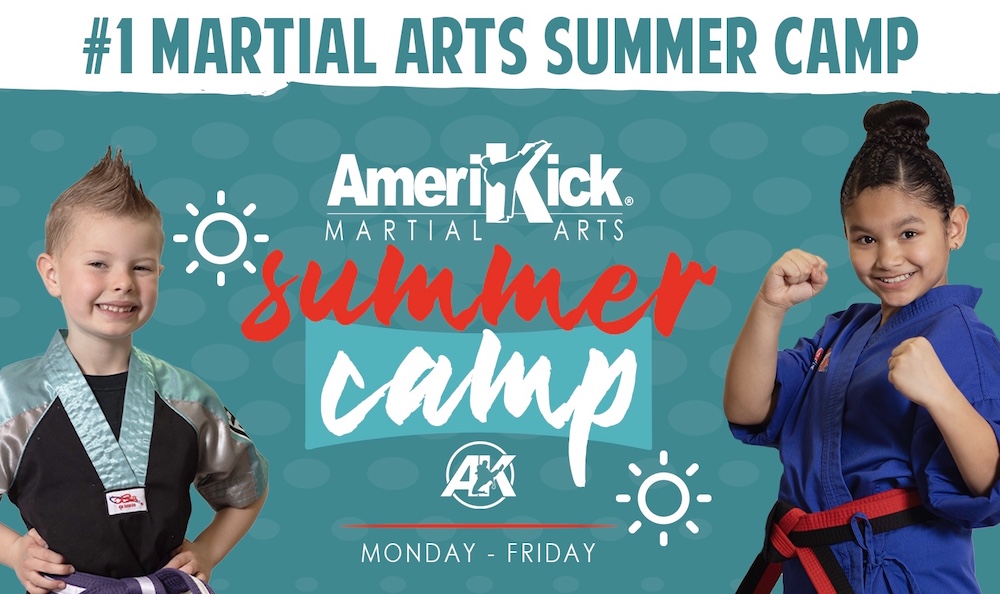 ALL SUMMER LONG... YOUR CHILD WILL GET A KICK OUT OF AMERIKICK'S PHILADELPHIA SUMMER CAMP FOR KIDS!
Are you looking for a fun summer activity for your child this year? Your child will be jumping for joy when you register for AmeriKick's exciting Philadelphia Summer Camp in Northeast Philadelphia! That's because we pack our Summer Camp days with fun and keep our kids busy with dozens of daily activities that work their bodies and minds.
Perfect for all kids aged 5-14, our kids Philadelphia Summer Camp instructors will give your child the experience of a lifetime! We've crafted a program that teaches valuable self-defense lessons for children of all ages, all while filling their days with exciting exercises and activities that leave them begging to return each and every day.
Just take a look at all the benefits your child will reap from our Philadelphia Summer Camp!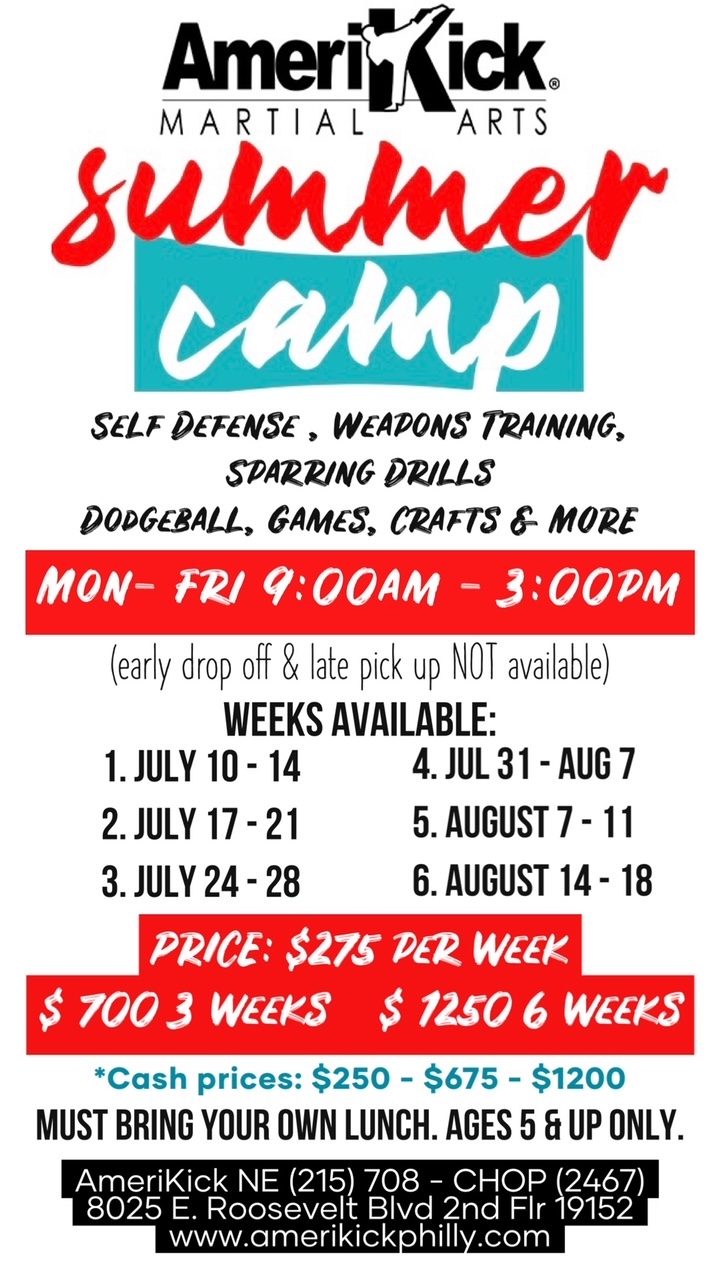 Sign up below!
1 Week (5 Days) 3 Weeks (15 days) All 6 weeks
ALL SUMMER LONG, YOUR CHILD IS IN THE BEST HANDS
With AmeriKick Martial Arts' Kids Philadelphia Summer Camp, you can rest easy knowing that your child is under constant supervision of a Master Black Belt Instructor. Our Sensei, will not only make your child's summer the best summer yet, but he'll make sure your child stays safe all summer long.
Be sure to register asap! First come, first serve
20 spots available per week.
Must have a minimum of 5 per week to run the camp.
(Call to inquire about day pricing)
This is a separate program from the regular evening class program.
A FULL DAY OF FUN AND TRAINING!
Karate Curriculum, Sparring Drills, Weapons Drills, Tricks (gymnastic style karate) dodgeball, karate games, video games & more!
NOTE: STUDENTS ARE ELIGIBLE TO TEST FOR A FULL TESTING STRIPE FOR EVERY 5 DAYS OF CAMP ATTENDED!
Sign up below!
Benefits of summer camp
Greater concentration for improved listening skills and behavior
Motivational camp instructors who encourage self-confidence and self-discipline
Self-defense and bully-prevention skills to keep your child safe at all times
A fun fitness school that encourages a healthy lifestyle
Awareness of and respect for others
A fun fitness program that encourages a healthy lifestyle